Television View
The Television View is made with your full newsroom in mind. This view allows your team to see what is happening on your site on an interface optimized for a large television screen or monitor. It's perfect to keep on display for your whole newsroom to see. It's available in light (white background) and night (dark background) modes depending on your contrast preference using the top right gear icon -> night mode.
How To View Data On A Large Screen
You can access a full-screen TV optimized view of the Overview Dashboard, Front Page Dashboard or Topic Insights Dashboard by clicking on the TV icon

  next to the time filters on top of the Overview, Front Page, or Topic Insights.  Thhttps://newsroom-help.taboola.com/articles/2-insights-dashboard/is will take you into the TV View, which you can exit by hitting the escape button twice, your publisher icon in the top left or Exit TV View button under the gear menu.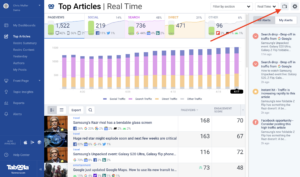 By hitting the "gear" icon in the upper-right corner, you are shown the list of options available for the TV View of your selected dashboard.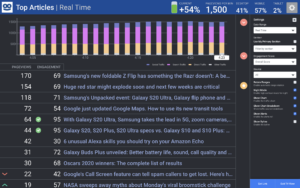 The Front Page TV view lets you filter by CTR and performance so you can monitor positions that need attention without having to look at all the positions.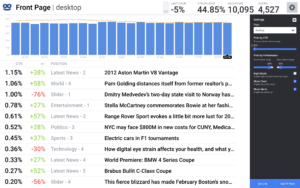 The Insights TV View allows you to see which topics people are reading on the network, on your site and your coverage. By using the "gear" icon in the upper right you can customize auto playback, apply category filters, and thresholds.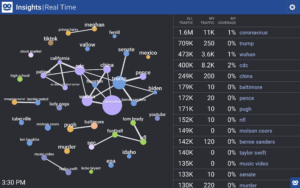 Once you've selected the options you want to show on your TV View, you can use the Get Link button at the bottom to get a link that will take you directly to the TV view with those settings. Once the Get Link button is pressed, the link will be copied to your clipboard. Setup your TV with a chrome browser (usually on a connected PC such as an Intel NUC) pointing towards this URL to see the exact dashboard as you configured it.
PRO TIP:
PRO TIP:  You can use the Tabulus Rotatum to rotate between urls for multiple dashboards. The links from each dashboard's Get Link button can be copied to the settings page of this extension. Please make sure only one tab is open on the window you activate the extension on for it to work.
PRO TIP:
Recommended setup for Top Articles is Date Range: Today and Sort By: Pageviews Real Time. This will setup your TV to show what people are reading at that moment up to the minute and also include the total traffic these articles have had since midnight.