How to Log in
You can log in to Newsroom at https://newsroom.taboola.com.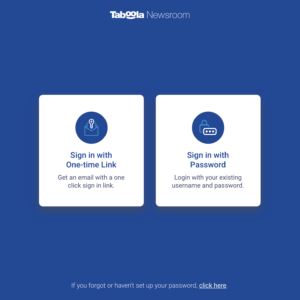 If you already had a Taboola Backstage account, you can log in using the same username and password you use to login to Taboola Backstage with the right button.
If you have not set up a password yet, you can use the left button to email yourself a one-time link that will automatically log you in, or you can set up a password using the bottom link then use the right button to log in in the future.
You can download our PDF instructions to share with your team here: Taboola-Newsroom-login-onesheet.
If you have any issues logging into Newsroom, please reach out to newsroom-help@taboola.com.
NOTE:  Each user should have their own login so they can set their own preferences such as adding authors to track and setting up alert preferences.  Learn more about how to add users at https://newsroom-help.taboola.com/articles/how-to-add-users-or-change-user-roles/ .