My Posts
Authors need to understand how their work is performing, including traffic trends for their articles specifically. These insights can help further build audiences for their articles. Newsroom provides an easy-to-understand deep dive into personal metrics for authors.
If you have configured a byline in your Profile Settings, you will see the "My Posts" link in the left navigation.  This dashboard shows the same information and data as the Overview Dashboard, but filtered to only show articles with your byline.
Important Note!
If you do not see a My Posts link, make sure you have inputted your Byline in your profile settings.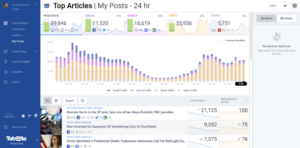 Not seeing your byline? Reach out to your Newsroom Engagement Manager or newsroom-help@taboola.com to help troubleshoot.